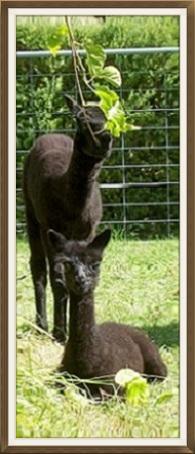 Members of:
Australian Alpaca Association
_________________________________________________________
We are a Boutique Alpaca Farm breeding quality Black Huacaya Alpacas with calm temperaments.
Our farm is set amongst the Tea-tree in the Cups region on the Mornington Peninsula in Victoria.
Located between the bay and ocean beaches, with Moonah Links Golf Course and Peninsula Hot Springs on our door step.
In 2007 we started with 5 breeding females and since then have produced many show winning Black Huacayas.
We have found Alpacas easy to look after. They are intelligent, curious and gentle animals and they are also environmently friendly.
Visit our craft page for a selection of unique and individually hand spun and hand knitted 100% Alpaca products, created using the natural undyed alpaca fleece from our alpaca herd.
We welcome you to contact us to arrange a visit to view our alpacas and discuss options on acquiring alpacas for yourselves, whether it be for breeding, showing, guards or pets.
_________________________________________________________